PP Multifilament Rope
General:
This product is by 100% polypropylene (PP) raw material, through two twisting, then processing woven.
With the advantages of light gravity, good water floating so it is very efficient in vessel operation. The tensile strength is more higher than that of Polypropylene monofilament rope with good wear resistance and good extensibility and impact resistance.
Widely used in ship mooring, towing, marine fishing and port loading and unloading, ocean transportation and many other fields.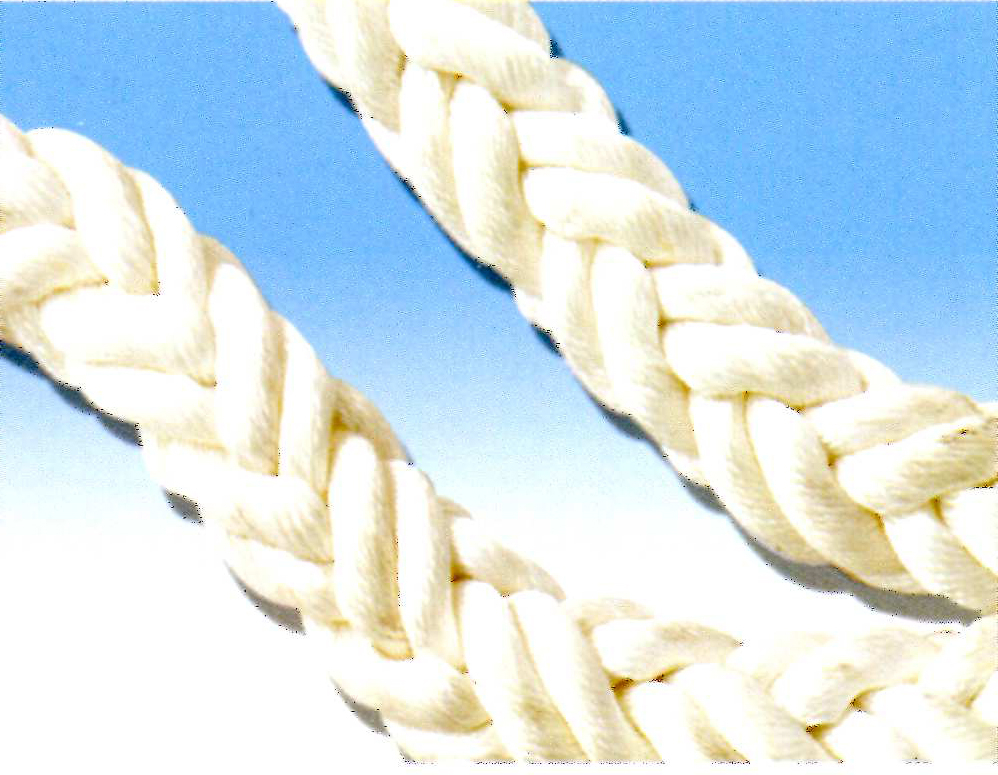 Technology comparison:
Melting point: 165 ℃
Specific gravity: 0.91g/cm³(Float)
Structure: 8, 12 strand
Elongation at break: 17-21%
Coil length: 220 m
Spliced strength: ± 10% lower
Weight and length tolerance: ± 5%
MBL = Minimum Breaking Load conform ISO 2307
Other sizes available upon request
Parameter table — 8 strand rope
Specification
Dia
Specification
Cir.
Weight
KGS/100M
Weight
LBS/100FT
Breaking strength
Ton
Breaking strength
KN
24
3
27.3
18.4
8.97
88
28
3-1/2
37.3
25.1
11.73
115
32
4
48.3
32.5
14.89
146
36
4-1/2
59.0
39.7
16.94
166
40
5
72.0
48.4
20.51
201
44
5-1/2
88.0
59.2
24.69
242
48
6
104.0
69.9
28.67
281
52
6-1/2
122.0
82.0
33.16
325
56
7
142.0
95.4
37.86
371
60
7-1/2
163.0
109.6
43.27
424
64
8
185.0
124.3
49.08
481
68
8-1/2
209.5
140.8
55.31
542
72
9
234.0
157.3
61.53
603
80
10
290.0
194.9
75.71
742
85
10-1/2
328.0
220.4
85.20
835
88
11
351.0
235.9
90.92
891
90
11-1/4
367.5
247.0
95.00
931
96
12
417.0
280.2
107.14
1050
100
12-1/2
453.5
304.8
115.82
1135
104
13
490.0
329.3
124.49
1220
112
14
570.0
383.1
141.84
1390
120
15
650.0
436.8
164.29
1610
Parameter table — 12 strand rope
Specification
Dia
Specification
Cir.
Weight
KGS/100M
Weight
LBS/100FT
Breaking strength
Ton
Breaking strength
KN
24
3
27.3
18.4
9.08
89
28
3-1/2
37.3
25.1
12.04
118
32
4
48.3
32.5
15.1
148
36
4-1/2
64.5
43.4
17.9
175
40
5
78.5
52.8
21.5
211
44
5-1/2
97.5
65.5
25.8
253
45
5-5/8
101.6
68.3
26.93
264
48
6
114.0
76.6
30.1
295
50
6-1/4
123.5
83.0
32.4
318
52
6-1/2
133.0
89.4
34.8
341
55
6-7/8
150.3
101.0
38.36
376
56
7
156.0
104.8
39.6
388
60
7-1/2
179.0
120.3
45.4
445
64
8
204.0
137.1
51.3
503
65
8-1/8
210.6
141.5
52.95
519
70
8-3/4
243.8
163.8
61.32
601
72
9
257.0
172.7
64.6
633
75
9-3/8
280.3
188.4
70.1
687
80
10
319.0
214.4
79.4
778
85
10-5/8
360.9
242.5
89.28
875
88
11
386.0
259.4
95.2
933
90
11-1/4
405.0
272.2
99.69
977
95
11-7/8
452.5
304.1
111.0
1088
96
12
462.0
310.5
113.3
1110
100
12-1/2
499.0
335.3
120.9
1185
104
13
536.0
360.2
128.6
1260
112
14
636.0
427.4
149.0
1460
120
15
716.0
481.2
170.4
1670