CWZ Series Marine or Navy Small – Sized Axial Fans
Description
CWZ series marine or navy small-sized axial fans are suitable for ventilation of kitchen, lavatory, bulkhead, the public place and meeting room, etc in the naval and merchant ships. They are also applicable in other suitable places.
Features
The fans are designed according to arbitrary vortex flow method. We choose the most reasonable vortex flow coefficient on the basis of the fans, specification, distribute every sectional characteristic speed & length of the vanes, the fans have low-noise, small size, tight weight and stable performance etc.
In the course of designing & manufacturing, we had considered fully of the marine special conditions, the impellers are strictly made by dynamic balance adjustment & over speed test. Therefore, the fans also have the features of good anti-corrosion, anti- swing, vibration resistance, shock resistance, stable running and safety reliability.
The fans can be used with 380V/220V, 50HZ or 440V/220V, 60HZ.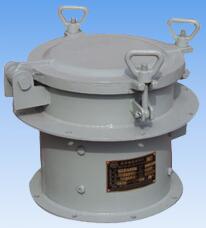 Structure
The fans can be made into two structure types, type I (tube type), type II (porthole type)
Type I (tube type) for ventilation of short tubes or fixed on the bulkhead.
Type II (porthole type) – fixed on porthole. It can be fixed on the porthole or the bulkhead. Since it's water-proof it can be easily opened or closed to keep rain or sea water out.
Impeller is made of cast aluminum alloy, casing is welded by steel sheet.
Flow Rate: 450 ~1550 m3/h