CGDL Series Marine or Navy High Efficiency Low Noise Centrifugal Fan
General
CGDL series marine or navy high efficiency low noise centrifugal fan (hereafter called the fan) are new type, energy-saving, low noise marine fan developed by our factory and Shanghai Ships Design & Research Institute. By the special design and process, the fans are characterized with high efficiency (> 80%), low noise, no overload, stable running and meeting the marine conditions etc. They are suitable for cabin ventilation and also applicable for the suitable places.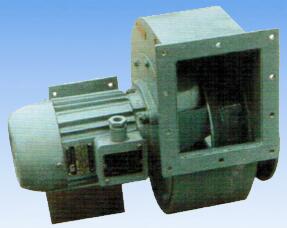 Features
The fans are adopted with design specially aerofoil blade and inlet. The dimension and line of casing are designed specially according to characteristic speeds. The impeller are processed specially so that air flows perfectly and the fans have the advantages of high-efficiency and low-noise. When power get to large flow, it gets down oppositely, therefore, the motor can not be damaged because of overload.
In the course of designing & manufacturing, we had considered fully of the marine special conditions, the impellers are strictly made by dynamic balance adjustment & over speed test. Therefore, the fans also have the features of good-corrosive resistance, resistance to swing, resistance to shock and vibration, stable turning, safety & reliability, etc.
Structure
The fans are in horizontal type with direct coupling for the motor. It can also be constructed into a vertical type.
The fans impellers are made by aluminum alloy and blades are like aerofoil. They are adjusted strictly by dynamic balance. So that they have good air dynamic performance. The casing and inlet are made by common steel and adopted with corrosion prevention of galvanization. When the machine number are equal to or more than 40, the fans added to frame.
The outlet directions of No. 40~80 of the fans which exist between 0 and 225, changed in 225.
Flow Rate: 400 ~24000 m3/h