CBZ Series Marine or Navy Explosion-Proof Axial Fan
Description
CBZ series marine or navy explosion-proof axial fans (hereafter called the explosion-proof fan) are designed and manufactured according to GB11800-2008 Marine Explosion-proof Axial Fans, GB3836.1-2000 Electric Apparatus for Explosive Atmosphere, GB3836.2-2000 Electric Apparatus for Explosive atmospheres, and Explosion-proof Electrical Equipment 'd' ,

Rules for

Steel Sea Ship in Class and Building. 
This series fans have been examined and proved up to standard by the Explosion-proof Inspection Authority of PRC and have got the certificate of inspection. They have also been examined by CCS.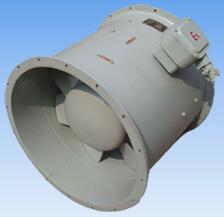 Features
Explosion-proof, safe and reliable in operation, good anti-corrosive, strongly capable of resisting swing, vibration and shocking.
Structure
There are three structural types : Type I (deck type), Type II (tube type), Type III (separate cabins type). The construction in non-sparking.
Type I explosion-proof fan has an explosion-proof motor installed on the top of the frame and a wire mesh guard with 2/inch, made of stainless steel, surrounding the frame. The fan is vertically fixed on the deck, It can be delivered for air supply or air extraction.
Type II explosion-proof fan has no hood, built-in type anti-corrosive motor is mounted on the casing by the static vane. It can be installed vertically or horizontally, and can also be installed on the deck. It may be used for air supply or air extraction.
According to the customer's special requirements, the fan can be made in III type structure. i.e. the fan and the motor are put in different cabins, with a driving device, a stuffing box and flexible coupling. It is used primary for exhaust of dangerous compartment.
Taking a front view from the motor, you will see a structure with its impeller turning clockwise.
Flow Rate: 1000 ~138000 m3/h