CBGD Series Marine or Navy High Efficiency Noise Centrifugal Fan
Description
CBGD series marine or navy explosion-proof (non-sparking) centrifugal fans (hereafter called the 'non-sparking' fans') are explosion-proof products for marine use which developed from the CGDL series marine centrifugal fans. The series are designed and manufactured according to Marine Explosion-proof fans, Electrical apparatus for Explosive Atmosphere and Ship regulations of Chinese and international.
Non-sparking fans are suitable for every cabin air ventilating and exchanging on ships which containing combustible and explosive gas. They are also applicable in other suitable places.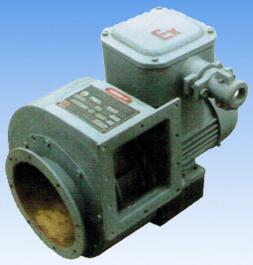 Features
High explosion-proof grade, high efficiency, low noise, no overload, good anti-corrosion, resistance to swing vibration and shock, stable turning and safety reliability, etc.
Structure
The are two structural types:
Type I (direct-coupling type) and Type II (separate cabins type)
The structure of  type I is a motor direct coupling one, the impeller is mounted directly on the motor shaft, and the casing is fixed on the flange of the explosion-proof motor.
Type II is a separate structure, the fan and the motor are put into different cabins. With a driving device, flexible couplings, and the driving device consists of bearings, bearing-box, shaft, brass rings, stuffing box. It can be oiled and measured the temperature. One side is fixed on the fan and the other side will be mounted on the bullhead.
The  fan may be made into a horizontal or vertical, single-stage. Single-driving and airtight structure by the customer's requirements.
Flow Rate: 400 ~24000 m3/h