CBL Series Marine or Navy Explosive-Proof Centrifugal Fan
Description
CBZ series marine or navy explosion-proof centrifugal fans are designed and manufactured according to GB11799-2008 Marine Explosion-proof Axial Fans, GB3836.1-2000 Electric Apparatus for Explosive Atmosphere, GB3836.2-2000 Electric Apparatus for Explosive atmospheres, and Explosion-proof Electrical Equipment 'd' , Rules for Steel Sea Ship in Class and Building. 
This series fans have been examined and proved up to standard by the Explosion-proof Inspection Authority of PRC and have got the certificate of inspection. They have also been examined by CCS.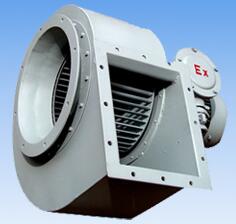 Features
Explosion-proof, safe and reliable in operation, good anti-corrosive, strongly capable of resisting swing, vibration and shocking.
Structure
There are two structural types: Type I (direct-coupling type) and Type II (separate cabins type). The construction is non-sparking.
The structure of type I is a motor direct coupling one. The impeller is mounted directly on the motor shaft, and the casing is fixed on the flange of the explosion-proof motor.
The type II is a separate structure, the fan and the motor are put into different cabins, with a driving device, flexible couplings, and the driving device consists of bearings, bearing-box, shaft, brass rights, stuffing box. It can be oiled and measured the temperature. One side is fixed on the fan, and the other side will be mounted on the bulkhead.
The fan may be made into a horizontal or vertical, single-stage, single-drawing and airtight structure by the customer's requirements.
Flow Rate: 500 ~21000 m3/h