Hydraulic Slewing Crane & Rescue Boat Liferaft Launching Appliance
Description
The appliance is slewed by hydraulic and it launches the boat to the water surface by the boat own gravity. It slews the boat or raft outboard under the condition of loss of electricity. While launching, the passengers could pull the remote control cable in the boat to launch or stop rescue boat or raft. As well, the crews can operate it on the deck.
Meets the SOLAS 1974, the International lifesaving appliance rules LSA and IMO, MSC81(70) and other regulatory requirements.
The crane is driven by the hydraulic winch and adjusts the working radius by the cylinder to the suitable position to the lower the goods.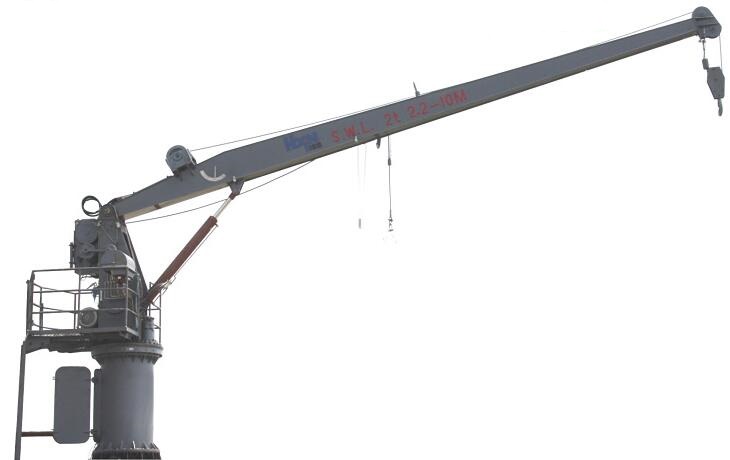 Specification
Main specifications for Hydraulic slewing crane & rescue boat liferaft device
| | | | | | |
| --- | --- | --- | --- | --- | --- |
| | | | | | |
| Max. Safety Working load | Hoisting load | Hoisting speed | Landing Speed | Rope capacity of the reel | Max. Rotation Radius |
| 21KN | 14KN | More than 18m/min | 40-60m/min | 30m | 4500mm |
| 30KN | 27KN | More than 18m/min | 40-60m/min | 30m | 4500mm |
| 23KN | 14KN | More than 18m/min | 40-60m/min | 30m | 7000mm |
| 23KN | 18KN | More than 18m/min | 40-60m/min | 30m | 7000mm |
Main specifications for Crane
| | | | | |
| --- | --- | --- | --- | --- |
| | | | | |
| Max. Hoisting load | Rope capacity of the reel | Max. Rotation angle | Hoisting speed | Max. Rotation radius |
| 2T | 30m | Less than 330 degree | more than 15m/min | 10000 mm |
| 3T | 30m | Less than 330 degree | more than 15m/min | 10000 mm |
| 3T | 30m | Less than 330 degree | more than 15m/min | 10000 mm |
| 3T | 30m | Less than 330 degree | more than 15m/min | 10000 mm |