Freefall Lifeboat Launching Appliance/Davit
Description: 
The launching appliances for free fall lifeboat are specialized equipment for launching and recovering free fall lifeboats.
The appliance has completely changed the traditional way of launching lifeboats with boat fall from both sides of the ship. Instead, the lifeboats free fall into water from the slide of the appliance deviating from the course of the mother-ship so that the ability of evacuating the ships in distress will increase.
The davit can make lifeboat freely launch into water in an emergency or under the circumstances of trim 20° and list 10°.
It meets the requirements of International Marine Safety of Life at Sea 1974, Rules of International Lifesaving Appliance (LSA) and IMO, MSC.81(70) and other regulations.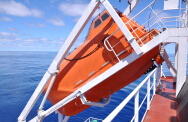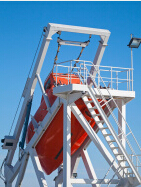 Specifications:
Model
Max.Working load
KN
Max.Hoisting load
KN
Capacity of winch drum
m
Hoisting speed
m/min
Specification of wire rope
FH55
55
42
50
≥3.0
D20mm-18×19-1770
FH65
65
42
50
≥3.0
D20mm-18×19-1770
FH90
90
55
50
≥3.0
D22mm-18×19-1770
FH150
150
100
110
≥3.0
D30mm-18×19-1770
FH300
300
190
220
≥3.0
D30mm-18×19-1770