Electric Lifeboat Winch
Description
This winch is designed and built according to the latest regulations of SOLAS and International Standards, which has two types: the left & right one.
The left winch is shown here and the right winch is made symmetrically.
After installation, should firstly start the motor to check if the drum rotation is correct or not before commissioning (the rotation should be towards the hoisting direction). If not, should adjust the motor wiring.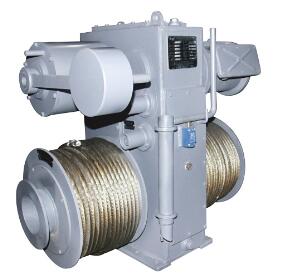 Specification
Safety working load
(KN)
Hoisting load
(KN)
Hoisting rope speed
(m/min)
Descending rope speed
(m/min)
Motor
(kw)
25
20
≥ 10
90-110
5
40
20
≥ 10
80-90
5
42
21
≥ 10
80-110
5.5
50
28
≥ 10
95-125
5.5
63
30
≥ 10
80-120
7.5
100
70
≥ 10
90-120
15
125
70
≥ 8
90-120
15
175
90
≥ 8
90-120
22
100
100
≥ 5
50-60
11
145
145
≥ 5
40-60
18.5
170
170
≥ 5
40-60
22
220
220
≥ 4
40-60
25