Hyperbaric Lifeboat
Description:
Hyperbaric lifeboat is suitable for ocean-going freighter. It has the function of rescue and reducing pressure when deep diving personnel coming back to the lifeboat.
Totally enclosed FRP lifeboat cum rescue boat, which is built according to latest regulations of SOLAS and rules of international lifesaving appliance (LSA), Revision bill of MSC. 218 (82), MSC.272 (85) and resolutions of MSC. 81 (70), Revision bill of MSC.226 (82), MSC.274 (85).
Capacity: 12 – 24 Persons
Various types of Classification Society Certificate can be supplied.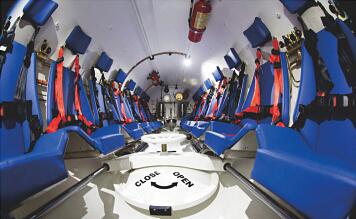 Specifications:
Main Dimension
(LxWxD)M
Capacity
(P)
Passenger in lifeboat (P)
Hook Distance
(M)
Total Weight
(KGS)
10.50×3.35×3.80
12/18
4
9.70
17805/18300
13.0×3.40×3.85
24
4
12.20
23500
* Please contact us for final confirmation on above data before placing your order.