Electric Hydraulic Sliding Door
General
Rely on the abundant hydraulic door production experience and strong technical support, company research and development team developed a new generation of hydraulic sliding door.
It is the significant improvement to hydraulic sliding door that new type of doors have several high quality performance including nice appearance, environmental protection, light and energy saving.
Characteristics
Mechanical structure:

Port of the material using profiles, Sealing strip, with hydraulic electrical integration, light weight.

Hydraulic parts:

Adopt a highly integrated design, shipyard don't need to install or maintain.

Electrical parts:

Electric control programming, external interface communication, small volume control box, the lines are less.

Install:

Compact structure. Complete set of hydraulic system downsizes around 10 times and it is easy to arrange.

System oil:

System only need 2L oil, ten years of free maintenance.

Emergency device:

Collection of emergency system in hydraulic module, ten years of free maintenance.

Hydraulic component:

Hydraulic system sealing is of non-pollution, using good imported valves, ten years of free maintenance.

Pipe line:

Without additional piping layout, docking module, no leak.

Transport & storage:

To deliver in complete set, convenient transportation and storage.

Commissioning & maintenance:

Convenient commissioning. Need one day and total 2 days only. Ten years of free maintenance.

After-sales service:

Hydraulic system has several modules, change directly after check. To supply globe services.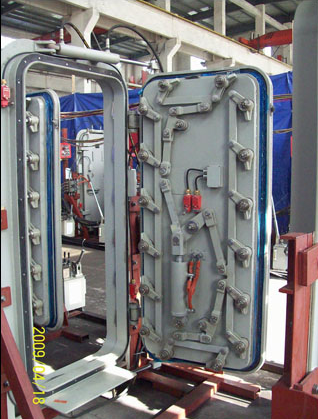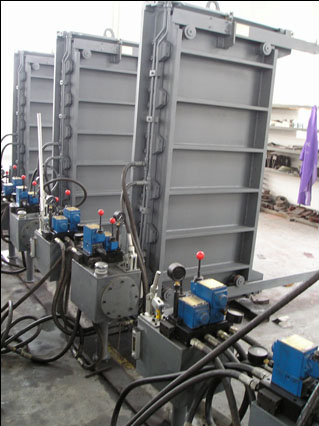 Composition & Operation
In front of the door:

Operating handle, handle pump operation

Behind the door:

Operating handle, hand pump operation

Upper deck:

Button box (for passenger ship) or other options

Wheelhouse:

Remote control board to close the door
Production
Full-digital and full-module design

Company has many sets of large CNC processing equipment and the operation of the professional technicians.

With special test site covers an area of 2000 m2 holding 100 units hydraulic sliding door assembly at the same time. 

The modular production, production line, short production cycle.