Yokohama Pneumatic Rubber Fender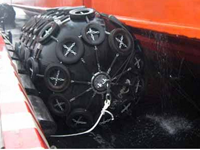 Yokohama Pneumatic Fenders cover all the advantages of general pneumatic rubber fenders. Meanwhile, Yokohama pneumatic fenders have its own advantages as below.
Yokohama Pneumatic Fenders are equipped with the Heavy-duty Aircraft Tire, which makes the fender more tough than those that equipped with general Chinese truck tuire net.
Yokohama Fenders are manufactured comply with the material requirements of ISO 17357 completely.
Easy to Transport and storage
Yokohama Pneumatic Fenders can be deflated completely, easy to storage. The big size pneumatic fenders over 2.5m diameters can be loaded into the normal container easily to save shipment.