Stealth Light Type Watertight Hatch Cover
Suitable for all types of vessels,especially for those ships with stealth requirements.
The cover and coaming are prepared by press forming to increase overall strength and reduce weight.Balancers are equipped for opening the cover easily.The locking device of cover is of linkage type which can be operated rapidly.
Stealth performance,high strength,good rigidity,excellent watertightness,open and close rapidly,light weight,flexible and beautiful appearance.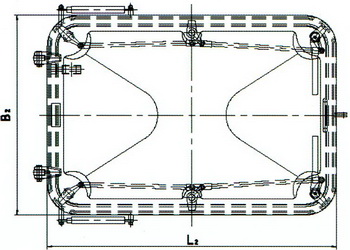 Specification of Type B,BL,BS stealth light type watertight hatch cover
No.
Nominal size
mm
LxBxR100
Deck opening size
mm
L1xB1xR100
Cover size
mm
L2xB2xR136.5
No.of balancer
n
Cover thickness mm
t
Coaming thickness mm
t1
1
420×600
420×600
493×673
2
4
6
2
500×500
500×500
573×573
2
4
6
3
600×600
600×600
673×673
2
4
6
4
600×1000
600×1000
673×1073
2
4
6
5
800×1200
800×1200
873×1273
2
4
6