A60 Electric Catering Service Window
Used as catering service window for all kinds of ships.
At the same time,the window is applied as a window for transferring items in a clean workshop.
The window frame connects with the steel bulkheads by welding.Window sash can slide up and down instead off the window frame.The window can be operated easily through the electric power,manual or remote control.
Fire-resistant of A60 and thermal insulation.The window is equipped with temperature detectors.The window sash can be shut down automatically when the room temperature is higher than the setted temperature.The window is also equipped with manual emergency operation system to make it more safe and reliable.The whole window structure is made of stainless steel with elegent appearance.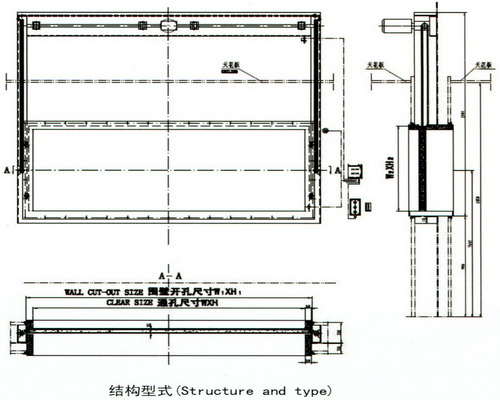 No.
Norminal size
mm
Cut out of wall
mm
W1xH1
Window sash
mm
W2xH2
1
630×500
740×610
706×538
2
900×630
1010×740
976×668
3
1100×800
1210×940
1176×838
4
1400×1000
1510×1110
1476×1038
5
1650×800
1760×910
1726×838
6
1800×1100
1910×1210
1876×1138
7
2200×1200
2310×1310
2276×1238