A0 Welded Openable Fireproof Rectangular Window
Appliable on various types of vessels with high performace requirements of fire-resistant,thermal and sound insulation,such as chemical tankers,liquefied gas carriers,oil tankers,offshore oil drilling platform and etc.
The window connects with the steel bulkheads by welding,and it is easy to install and more reliable.The main window frame connects the glass panes with hinges,which can open & close freely.The glass is a kind of compound material with the characters of fire-resistant,sound insulation and thermal insulation.
Fire-resistant of A0,thermal insulation and high sound insulation.As the window located in the "A" fire division,the glass pane can be opened left or right to ventilate in daily use.The fastening between the glass holder and glass is through screws for easy to be maintained.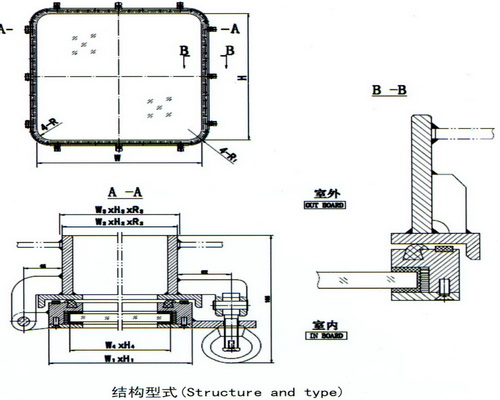 No.
Clear size
mm
WxHxR100
Glass retainer
mm
W1xH1xR140
Frame size
mm
W2xH2xR124
Cut out of wall mm
W3xH3xR126
Glass size mm
W4xH4
1
1000×1000
1080×1080
1048×1048
1052×1052
1030×1030
2
1100×1100
1180×1180
1148×1148
1152×1152
1130×1130
3
1200×1200
1280×1280
1248×1248
1252×1252
1230×1230