Fireproof Blanket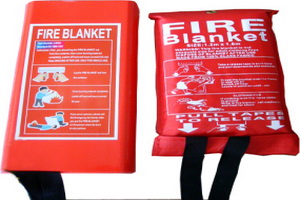 Fireproof blankets are mainly processed by special technical with fireproof fiber. It is an ideal and efficient product to keep the person or goods far away from the heat source.
Main character: fireproof,high temperature resistance,soft fabric,smooth,compactness,non-irritating to skin,easy to use,reused if undamaged.
Method: Put the fireproof blanket on the fire source when it in the beginning of burning process and the fire could be put out within a short time.
Package: Red PVC box or in a roll. also be packed according to customer's requirements.
Specification:
1000x1000mm
1200x1000mm
1200x1200mm
1500x1200mm
1500x1300mm
1800x1200mm
1800x1800mm
Color: Red,yellow,blue,white etc and various kinds of colorful blankets
Fireproof grade: Grade A,GB8624-2006 and Grade A1,DIN4102 (Germany standard)
Standard: EN 1869:1997 and passed European SGS safety fireproof examination