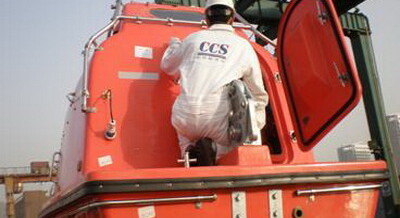 One of the most important safety devices on any ship is a lifeboat; so it is no wonder that a lifeboat inspection would be important too. No matter what kind of ship you are on, if one of the many worst-case scenarios occurs, you want to be able to get off the ship safely and be somewhere safe until you are rescued. A lifeboat gives you the comfort in knowing that you have a safe place during a worst case scenario. Lifeboats ensure you have an option better than just floating in the water during the worst case until the help arrives. Lifeboats are also store on-shore, ready and waiting to be deployed whenever they are in need.
The Basics of Lifeboat Inspection
As you can imagine, lifeboat safety is a very important part of any sea-bound person's life. If lifeboats are going to be trusted with the lives of everyone on the ship in the face of a possibly fatal emergency, they are going to have to be reliable; but no matter how strongly you build something, if it is very important, it is best to test it from time to time just to make sure that everything is functioning properly. A lifeboat inspection is the perfect way to make sure that your lifeboats are ready for the worst. Periodically having lifeboats inspected and properly maintained can prevent accidents that could cause serious injury or death.
Lifeboat inspections can be done once a year and there are multiple companies that offer them worldwide. While it is a good idea to keep a weathered eye on the lifeboats on your own ship, it is best to let a professional test them too. It is a good idea to test your crew on how to get them off the ship and into the water at least once a month. That keeps your crew and the lifeboats ready just in case they are needed. The lifeboats should come with their own set of manuals that will make it easier for you to decide what the best route for inspections may be. Remember that every inspection report should be filed away, just in case it holds valuable information that you may need in the future.
Not only is it important to consistently have your lifeboats inspected, it is important that the crew aboard your vessel knows everything that there is to know about how to use them. Lifeboat drills are required by law, to ensure that everyone is ready if the need for use arises. Having your crew involved in lifeboat inspections is a good way to keep them connected to the way that they work.
The following point should be noted when performing lifeboat inspection:
Inspection of the lifeboat structure including fixed and loose equipment.
Inspect the engine and the propulsion system
Inspect the air system and the sprinkler system.
Inspect the maneuvering and the power supply systems
Inspect the bailing system.
Release gear is a very vital mechanism in the lifeboat and utmost care should be taken to maintain it. The following are the points to be noted when examining the release gear after the brake test:
Operating of devices for activation of release gear.
Excessive free play (tolerances)
Hydrostatic interlock system, where fitted
Cables for control and release
Hook fastening
Release gear operational test of on-load release function
Position the lifeboat partially into water.
Operate the on-load release gear
Reset the on-load release gear
Examine the release gear and hook fastening to ensure the hook is reset and no damage has occurred.
Release gear operational test of off-load release function
Position the lifeboat fully into water.
Operate the off-load release gear
Reset the off-load release gear
Recover the lifeboat to the stowed position and prepare for operational readiness
What Does a Lifeboat Inspection Do?
Lifeboat inspections are required in order to ensure that each and every lifeboat is ready to be used at any given moment. Just like any other kind of inspection, they are employed in order to test function. They check all of the vital mechanisms involved in the operation of lifeboats to make sure that they are all functioning at their best. Some inspections even include weighted water bags that will test how the lifeboats will handle the weight of passengers. Regularly having your lifeboats inspected can save you from having to find out about malfunctions in the heat of the moment. The last thing that anyone wants is to find out that the lifeboats don't work in an emergency. Annual lifeboat inspections save lives.
Once the servicing and the annual maintenance are done, a statement confirming that the lifeboat arrangements remain fit should be issued by the manufacturer's representative.
Share