Wet Unit System
Brief Introduction
Our Wet Unit System is an independent, multiple purpose unit. It is composed of wall, ceiling panel, fireproof equipment and pipe system, in which people coudl take shower / bath, wash face and toilet within limited space.
Properties
Fire rating of the whole unit reaches Class B-15.
Personalized design and industrialized manufacture.
Rational stucture, flexible configuration ( as per clients' rquirements), green, energy saving and easy to clean.
Easy installation and short construction cycle.
Application
Our Wet Unit System has been widely used in accommodation cabin of all vessels, offshore platforms, land hotels, container houses, etc. It make the sanitary space economical and confortable.
Lifting of Wet Unit
There are two methods to lift the wet unit:
When lifting, the unit shall be lifted to the certain correct postion. The unit shall be kept balance during lifting.
The protecting materials shall be removed in time when the wet unit at the correct position, in case of flames caused by welding.
Wet Unit Standard Samples
Bottom Tray of Wet Unit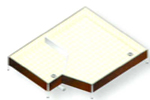 Material of Bottom Tray: Steel / Stainless Steel / Aluminum Alloy / G.R.P.
Floor Material: Ceramic / Covering + Ceramic / Floor heating system + Covering + Ceramic / Expoxy Floor / Covering + Expoxy Floor / Floor heating system + Covering + Epoxy Floor / Epoxy sculpture floor
Sanitary Appliance and Hardwares in Wet Unit
Wash basin
Toilet bowl
Water closet
Wash basin mixer
S type water trap
Angle valve
Water box
Flush botton
Curtain vail
Soap holder
Shower mixer with thermostatic
Bathtub mixer
Shower head, handle & hose
Hat and coat hook
Towel bar
Towel ring
Tumbler holder
Ashtray
Wastebasket
Mirror cabinet
Lamp
Light
Toiletry rack
Paper holder
Paper box with ashtray
Backup holder
Cloths line
Toilet brush & holder
Storm rail
Door stopper
Door holding rod
Exhaust fan
Quarry tile
Changed dia a joint
Waste water pipe
Attachment clip
Ball valve
Scupper
Toilet lock
Time-lapse valve
Heater
* For more technical details and specifications, please feel free to contact us!